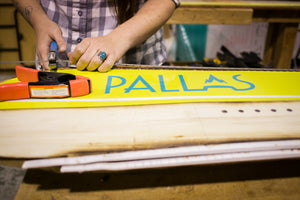 Inside the Tech
Take a peek behind the technologies of Pallas snowboards and splitboards.
We've had our hands in the snowboard building process since we started Pallas in 2013. For the first five years, we hand-built every board, refining our craft(wo)manship of piecing each component together before sliding it on snow. In 2018, we moved our production to a factory to help us bring Pallas boards to more people, but we continue to rely on our Salt Lake City, Utah workshop to build and test new shapes or tweak existing ones.
From this workshop that we share with our brothers at Chimera Snowboards, we've spent countless hours exploring new technologies and validating our use of quality materials to ensure they hold up to our expectations and demands. We've learned that the little details are just as important as the essential elements — but they all come together in a special recipe to make our snowboards and splitboards look different, ride different and feel like they were designed just for you.
Whether we're making a prototype board from our workshop or handing off the design files to our factory partners, we hold our build quality to high standards. Take a peek at some of our tech and see what makes us different.
Turn your twin tip into a powder board
A powder day is always a great day, but sometimes you don't always have the right board for it. For those days you wish you had brought your pow board (or just wished you owned one), we've added powder inserts to our twin tip snowboards. These powder inserts allow you the option of setting your bindings waaay back on your board, effectively adding several inches to the nose, taking several more off the tail, and giving your beloved freestyle twin a ton of float for the day. You'll find powder inserts on the Oversoul and Hedonist snowboard models.
A splitboard that rides like a resort board
Most splitboards have a metal edge that wrap around each ski. This means that most splitboards, therefore, have almost twice as much steel edge as regular snowboards. But steel is not an ideal material in snowboards; it's stiff, springy, causes "chatter" and can delaminate from the board easily on impact. On splitboards, the straight edge of the ski is almost never exposed to rock and ice in ride mode, and in ski-mode, it's rarely engaged when side-hilling. In other words, the extra inside steel edge on splitboards is unnecessary.
We've addressed this problem on the Epiphany Alpine Series, and if you take a peek at the base, you'll see it looks a little different than the rest of our splitboards. We've completely eliminated the steel edge on the straight side of each ski and wrapped it with a plastic bumper made from a tough-as-nails, Ultra-High Molecular (UHM) material. The result? Our proprietary bUHMper inside edge.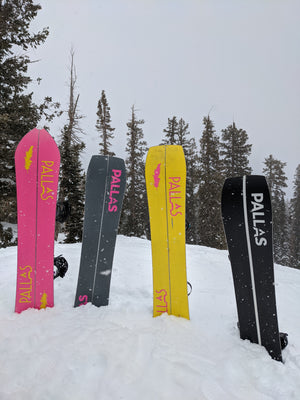 The bUHMper edge not only eliminates unnecessary steel on a splitboard, but it also dampens the build, making the board less floppy — an inherent problem among all splitboards. The result is a splitboard that feels as light, responsive and poppy as your resort board, with strong plastic edges that protect the sidewall.
Hardboot-compatible inserts for ski mode
Splitboards require specialized bindings, and there are two general types of binding systems: softboots and hardboots. 
Softboot set-ups are generally more comfortable, more affordable and allow you to ride with your familiar resort stance. For these reasons, most splitboarders prefer and use softboots, and all splitboards are designed with this binding system in mind. In a softboot system, your boots and bindings look very similar to your resort setup and feel very similar when riding. In touring mode, the bindings attach to the split-skis using a standardized 3-hole pattern at the toe. 
Hardboot set-ups have become more popular in the past few years, thanks to their more rigid support that make skinning in challenging terrain easier (think: icy, off-camber skin tracks). Hardboot systems use alpine touring ski boots (also known as AT boots) and specialized plate bindings, which result in a lighter, more efficient system for touring. Riders who gravitate towards alpine riding and ski mountaineering-style splitboarding tend to use these set-ups. This system, however, has historically required binding mounts that aren't standard on splitboard designs and require the use of an adaptor plate.
There are a few drawbacks to using adaptor plates, and weight is only one concern. Reduced performance, reduced stance options and increased risk of board breakage are the big ones. For these reasons, we began wondering how splitboards can seamlessly integrate with hardboot / AT systems without the need for an adaptor plate. So in 2021, we introduced a new toe pattern on the Epiphany Alpine Series.
This toe pattern has been designed to accommodate the majority of commonly-used tech toes in splitboarding (such as G3, Dynafit, Black Diamond and more.). This allows tech toes to be mounted directly to the splitboard without sacrificing weight, strength, integrity and touring performance.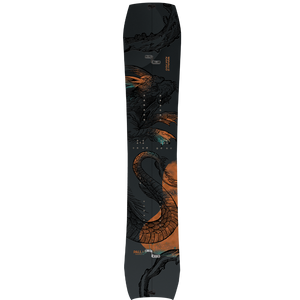 Premium Splitboard
Epiphany Alpine Series
Discover the progressive tech on our most powerful splitboard, built for long, demanding days in the backcountry.
Shop the board
The basics in every board
We opt for quality materials and ingredients to help extend the life of our boards. Durability and confidence in your gear matters. The last thing you want is to be stuck on the mountain with damaged or broken gear. By building boards with the good stuff (and keeping up on your board maintenance), you and your board can have a long, happy life together.
Poplar-blended core
Poplar blended cores have an incredibly high strength to weight ratio, creating the foundation for a quick, snappy, and lightweight board without compromising integrity.
Triaxial fiberglass
Triaxial fiberglass makes our snowboards and split boards torsionally stiff to allow aggressive riding, while allowing a little more forgiving and softer flex between the feet. It's snappy, supportive and responsive.
Sintered bases
All snowboards and splitboards are made from sintered 4001 Durasurf material, which is dense, strong, fast, and absorbs wax well. (Just be sure to wax every 5th ride or so!) They feature die cut graphics for extra-crisp clarity.
We choose bright colors on our splitboards as much as possible to help keep you visible in the backcountry.
Tip fill
Ultra-high molecular weight (UHMW) tip fill reduces chatter and increases stiffness and durability in the tip and tail. Because it's lightweight, it also reduces the swing weight of your board for quicker spins in the air.
Topsheets
Our splitboards feature a textured nylon material made from environmentally friendly caster beans and is ultra durable, resistant to scratches and UV-resistant. The textured topsheet also breaks the snow's surface tension to reduce ice or snow buildup, which keeps your ski tips nice and light when touring.
Sidewalls
We use ultra-high molecular weight (UHMW) sidewalls and polyurethane sidewalls on our splitboards and snowboards, respectively, both of which are impact-resistant, reduce chatter, and increase torsional stiffness for a smooth ride.
Epoxy
Our boards are pressed with a specially formulated resin to maintain strength and integrity of the board while making them feathery light. We use epoxy made from zero volatile organic compounds (VOCs) and zero solvents, creating a safer working environment for snowboard manufacturers.
Edges
Hardened, durable steel edges are fully wrapped for tip-to-tail sidewall protection.
Tip protectors
Lightweight extruded aluminum tip and tail protectors on the Zeitgeist add durable reinforcement to critical areas to keep it looking sharp for its lifetime.
Curious how all the materials come together to create a shreddable work of art?
Take a peek at our prototyping workshop in Salt Lake City, Utah.
TOUR THE WORKSHOP