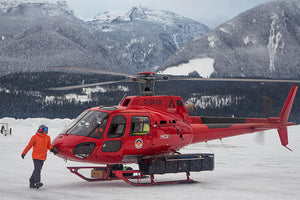 Pallas Canada Trip with Christine Feleki
The Pallas Team met up with rider and ACMG splitboard guide Christine Feleki in her motherland of Canada for a helicopter bump into the backcountry.
Words: Sid Garrido
Photos: Willy Nevins
When you think about what it takes to be a top level backcountry snowboard guide, images of big mountains and navigating Avalanche terrain come to mind. After spending four days in the Canadian backcountry with splitboard guide and Pallas rider Christine Feleki, we learned there's so much more that goes into it. Aside from the risk management and snow science, it involves teaching the very specific ways of loading and unloading a helicopter, and the even more specific way of washing dishes when all your water comes from melted snow. Being a splitboard guide can also mean on the spot surgery to fix a binding that breaks kilometers away from the hut, and using all the tricks to make unstickable skins stick again. It's apparent Christine has put in countless hours developing the intricacies of communing with the mountains, guiding folks through the mental and physical aspects of the backcountry, and perfecting the necessary self care to be in the best position to do it all.
To explain our four days in Selkirk mountain range, I want you to first Imagine the childhood clubhouse of your dreams. Two stories, entirely made of wood, ladder entry, cozy fireplace, little breakfast nook and a loft. Now combine some components of the adult clubhouse of your dreams- a gorgeous Canadian backdrop, helicopter access, splitboards galore, and enough food to send a family of bears into hibernation. Welcome to the Bivouac hut!
We loaded up two helicopters with nine people from the Pallas Snowboards & Chimera Backcountry snowboard team including two OG guides that have been riding for us since the beginning, Christine Feleki and Aaron Chance. We were dropped off deep in the Selkirks, a magical landscape, called the Twin Butte area, next to a frozen alpine lake, with views of vast mountains in every direction. Aaron reminded us of the four nations who were stewards of the land long before us. Following the Columbia River to the South, the Sinixt. To the East, through the Selkirk Mountains, the K'tunaxa. Following the Columbia River to the North, the Secwepmec, and to the West through the Monashees Mountains, the Sylix.
After the intense whirlwind of the helicopter blades left, we were met with a deep silence that comes from being the only humans around for kilometers. The silence only lasted for a few moments before it was replaced with sounds of pure stoke. There's a lot of chores to be done to set up a camp for four days, but it was a joy to learn how to do the daily tasks required to live in such a remote, beautiful landscape.
We were blessed with blue skies, soft snow, songs from the Canadian Grosbeak, and a considerably dangerous snowpack. After making sure the team was dialed on our companion rescue skills, we spent some time getting to know the different layers of snow. Our guides meticulously took us through our snow safety analysis and we committed to riding safe aspects and zones, being very lucky to have options to choose from, and then we went for a walk.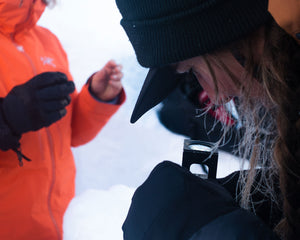 If you've ever watched a painter, or a sculpture at work, then maybe you'd also understand and appreciate the art form of setting a skintrack in complex landscapes. Similar to an artist who has dedicated countless hours to their craft, our guides carved a skintrack through steep slopes of pillows, ridges, and gullies. If watching someone who's dedicated their lives to splitboarding go uphill is remarkable, watching them go downhill is even more inspiring.
The snowboarding was incredible, and the food was even better. Wally, our chef for the trip, not only rips on a splitboard, but cooks the kind of meals that have you coming back for seconds and thirds. Over dinner, Christine let us bombard her with questions around what started her journey into the world of guiding, and what it took to become the first woman ACMG Splitboard guide. We talked about life outside of snowboarding, and the necessary balance it takes to make it sustainable. I don't think Christine even means to be as inspirational as she is. She approached every question with humility and a twinkle in her eye.
With sore bodies, full bellies, and boundless stoke, we brought in the first full moon of the new year around a bonfire. For most of our crew, it was the trip of a lifetime. For our guides, it's just part of their daily life. 
Thanks for reading friends, be sure to subscribe to our newsletter for more adventures from our Pallas riders. We wanted to include a bonus Q&A with our girl Christine Feleki. Enjoy!
Q&A with Pallas Splitboarder Christine Feleki
1) How did you get into splitboarding?
I first started split boarding in 2009 (I think). I had read about Scott Newsome passing his ACMG (Association of Canadian Mountain Guides) Apprentice Ski Guide exam on a splitboard in Snowboard Canada. This made him the first snowboarder to pass an exam on splitboard in the ACMG, (and then he became the first to pass his full ski exam in 2012) and something clicked for me. I realized that is what I wanted too and I went and bought a used Prior split with skins and pucks. I had my resort bindings on the adapter plates, it was so heavy :) Before that I had mainly just been a resort rider, with the occasional bootpacking mission here and there. My backcountry exposure came from my upbringing and outdoor education through my high school years. 
2) What made you pursue the guide track?
It probably initiated in high school when my outdoor ed teacher suggested the idea. At that time I was quite shy and couldn't imagine myself in that type of leadership role. I think my idea of what a guide was, and the reality, and possible change in what a guide's role is, was quite different at that time. Jumping forward to 2009, I was sick of waiting tables, washing dishes and working in kitchens. I wanted something that would allow me to be outside for most of the day and be challenging and always changing. 
3) What advice do you have for women getting into splitboarding?
I think fear can stifle our progression, and it comes in so many forms. Fear of not being fit enough, fast enough, good enough… It can keep us from heading places we might not feel totally comfortable, or with people we are worried about keeping up to. So I would say you will never know until you go, and every time you go some of that fear will disappear. Taking time to do your own research on the objective, taking courses to help you feel informed and able to participate in decision making as well, will have a big impact on your own anxieties as you head out. 
4) How important is our "inner dialogue" in snowboarding?
I imagine that this is as important in snowboarding as it is in all aspects of our life. Our inside talk affects our outside performance and it is really easy to let it go unchecked. 
5) Any tips for improving your mental head game when it comes to splitboarding/snowboarding?
This one is kinda tough, and I think as you gain experience your head game improves. Uncertainty is ingrained in backcountry pursuits, which breeds fear and anxiety which will always mess with your head. But, as you do it more you become better and recognize what fears you can manage and what you actually need to be scared of. 
6) Advice for long days in the mountains?
Eat and drink every 30 to 60 minutes, even if it is just a bite of something. 
7) Essential gear?
Layers! 
8) Goto trail snack?
I'm still looking for this, any suggestions, hit me up :) I tend to make two simple sandwiches, PB+Honey or Yam (not a spelling error) sammies that I can eat throughout the day but they hold up well once you start eating them. 
9) Favorite form of self care?
I am starting to recognize how important off season training is and then keeping up with a few mobility and strength exercises throughout my working winter to keep from getting hurt. 
10) Any parting words?
See you out there :)